UPDATE: This essay, alongside others from my CDM Cohort, are available now as an ebook! Get your copy here!
December 14, 2012 is a day I remember vividly. I was in high school at the time, and had just submitted a paper in my Civics class about gun control and the complex but strict laws in Canada versus the lax laws and focus on "right to bear arms" in the United States.
From the 1970s until 2016, there have been under fifteen school shootings Canada-wide (CBCNews, 2016). On the other hand, there have been around 188 school shootings in the United States since 2000 (Erickson, 2018). As many people across the world agree, America's school shootings issue is truly unique to their country.
December 14, 2012 was a cold day, and rapidly approaching the supposed 'end of the world' on December 21, 2012. It was near the end of the semester and I remember walking home in the cold desperately waiting for the Christmas break to come. At that time, I was very active on Twitter, and it was very soon after I got home from school that I saw the news on my Twitter feed. My parents always left 680 News on at home (a local news station back home in Toronto), and not long after I saw the news online did I hear 680 report it over the airwaves.
It was a deep sadness, something felt in the gut. We could do nothing as we watched the numbers rise, as information on who had been lost came to light — 20 children dead, 6 teachers and staff lost (Frank, 2013). There was outrage across the United States and the world.
That night, my father worked late. He works in television news and this—among many other tragedies and events of my childhood—held him at work late into the night. I remember how dishevelled he was coming home, how quiet, how sombre.
Newtown and Sandy Hook quickly became more than just a place, but a movement. Charity organizations were established such as the Sandy Hook Promise (www.sandyhookpromise.org) which pushes for advocacy toward new policies around firearms. So many gun control movements have followed in their footsteps, in the horror that is the fact that there have been so many shootings since 2012. But I believe the modern movement of gun control activism largely pays its dues to Newtown.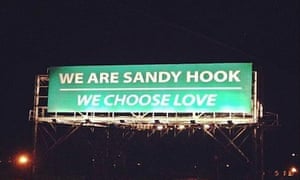 The Stoneman Douglas school shooting created stronger social media movements to follow, mostly started by the teen survivors of the shooting, who began appearing at protests, on news outlets, and creating strong social media presences — specifically the #NeverAgain and #EnoughisEnough movements (Barden, 2018). These gained a lot of press and even created the March for Our Lives campaign, a school walkout. Sandy Hook is often mentioned at these rallies, as one Natalie Barden, who lost her brother at Sandy Hook, advocates and sympathizes for the victims of Stoneman Douglas as well (Barden, 2018).
Though, in a strange twist of social media—tied in with the so-called "fake news" movement—many conspiracists took to the web to debunk the Sandy Hook Shooting, saying it was faked to push for stricter gun laws (Williamson, 2018).
As Elizabeth Williamson reports, "Alex Jones, an online conspiracy theorist whose InfoWars website is viewed by millions, seized on this agonizing recollection to repeat the bizarre falsehood that the 2012 shooting that killed 20 first graders and six adults at the elementary school in Newtown, Conn., was an elaborate hoax invented by government-backed "gun grabbers" (2018).
This is one of the prevailing problems of our current social media climate — lies are being spread and pitting people against each other. Outlandish claims gain traction with people of similar radical mindsets and turn what was certainly a tragedy into some sort of hoax where the true feelings of those who lost loved ones are neglected and brushed away. As Williamson reports, "More than five years after one of the most horrific mass shootings in modern history, the families of Sandy Hook victims are still enduring daily threats and online abuse from people who believe bogus theories spread by Mr. Jones" (2018).
We have created, catered, and nurtured a toxic online environment fed to us by the very same targeted ads and directed news that we create. Social media movements have bleak, dark sides, and in this era of 'post-truth', we need to be cognizant of facts and biases presented by reporters and self-appointed theorists or else the truth will be lost in the muddle of media. If we look at history as method, we know that the United States has a serious gun control issue. We also know that countries such as Australia and New Zealand have solved issues of much lower calibre with much stricter laws. The complicated landscape of American politics is hard to traverse and many people are shaped socially to fall into certain categories — some may look at Sandy Hook as a tragedy, others may look at it as a conspiracy. One of the issues with digital media is that people will end up looking at like-minded articles; people will have ads targeted at them to move toward gun control sites or conspiracy sites, and the Sandy Hook hashtags become a strange piece of doublespeak in the digital world.
WORKS CITED:
Barden, N. (2018, August 15). I Lost My Brother in the Sandy Hook Shooting, and Will Continue to Fight for Gun Control. Retrieved from https://www.teenvogue.com/story/natalie-barden-sandy-hook-march-for-our-lives-gun-violence-op-ed.
CBCNews. (2016, January 24). Deadly school shootings in Canada | CBC News. Retrieved from https://www.cbc.ca/news/canada/deadly-shootings-schools-canada-1.3416685.
Erickson, A. (2018, February 15). The one number that shows America's problem with school shootings is unique. Retrieved from https://www.washingtonpost.com/news/worldviews/wp/2018/02/15/the-one-number-that-shows-americas-problem-with-school-shootings-is-unique/.
Frank, M. (2013, December 9). Newtown is no longer just a place, but a movement | Monte Frank. Retrieved from https://www.theguardian.com/commentisfree/2013/dec/09/newtown-anniversary-we-choose-love.
Williamson, E. (2018, May 23). Truth in a Post-Truth Era: Sandy Hook Families Sue Alex Jones, Conspiracy Theorist. Retrieved from https://www.nytimes.com/2018/05/23/us/politics/alex-jones-trump-sandy-hook.html.